PARAMETER PICKERS
The Parameter Pickers are another tool of the GUI for creating lists (dynamic or static) of possible values to be passed to a parameter. See the included example Example_ParamPickers for a possible application.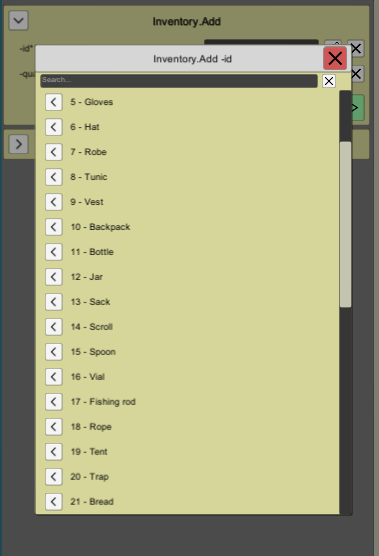 To add parameter pickers you have to create new classes that extend the base class ParameterPicker
---
1. Create a new class in any folder of your project.

---
2. Set the following namespace for the class: GIGA.CommandConsole.UI.ParamPicker and make it inherit from base class ParameterPicker.
---
3. Add the following attribute to the class: ParameterPickerGetterAttribute, specifying the command class type and the parameter name you want to link this picker class to.
---
4. Edit the GetPickers() method to add your logic and fill the list of values. This method simply return a list of ParameterPickerInfo, containing the value to return and a label to be displayed in the list.



  public class ParamPicker_Test : ParameterPicker

  {

    public override List GetPickers()

    {

      List pickers = new List();



      ().itemsList)

      {

        pickers.Add(new ParameterPickerInfo{

          value = item.Key,

          // The list will show labels in the format id - name (e.g. 1 - Boots).

          text = string.Format("{0} - {1}", item.Value.id, item.Value.name),

        });

      }

      

      return pickers;

    }

  }


---